Contacts
&nbsp Tel: +971 6 5625425
&nbsp Fax:+971 6 5626686
&nbsp Mail: nawras05@eim.ae
Wet & Dry risers

There are different types of Risers such as :
• Wet-Pipe Systems are the most common type of system used. The pipe work is constantly charged with water and when the sprinkler head activates water discharges from the sprinkler heads immediately. These systems are appropriate for permanently heated buildings.
• Dry-pipe installations are appropriate for applications either where there is a danger of the water in the pipes freezing or in situations where there may be temperatures above about 70 degrees c. In a dry-pipe system the pipework downstream of the installation control valve is charged with air which is under sufficient pressure to prevent the entry of water into the delivery pipe work. Once the first sprinkler head operates the compressed air escapes through the head, the control valve opens to allow water to flow into the system pipework.
With Dry-pipe systems there is a time delay in releasing the air from the system before water discharges from the sprinkler heads. For this reason Dry-pipe systems are limited in size, generally to half the size of a wet-pipe system, and in some cases require more flow and pressure from the water supplies to cater for more sprinkler heads operating before water is discharged. For this reason consideration should be given to other means of frost protection, such as trace heating and lagging the sprinkler pipework.
Dry risers also are systems of vertical pipe work which are used to get water to the upper floors of a building in the event of a fire. Should a fire break out in a building with a dry riser installed then fire fighters will use this as the easiest way to get large amounts of water up to the fire floor, pumping it up via a ground floor inlet box, often found in staircases or other accessible locations.
• Alternate Wet & Dry Pipe Systems are just that. They operate as either type and allow the premises occupier to protect the premises with a wet-pipe installation in the summer and a dry-pipe installation in winter. The same conditions on the size of the system and the water supplies apply here as for the Dry-system.
Fire Hose Reel & Hose reel Cabinets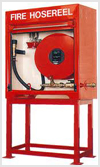 Al Nawras are following the BS EN671-1 standard. As per UAE Code, The hose reel discs are manufactured using 1.2mm electro galvanized steel sheets and has ribs that gave extra strength, which in turn avoid twisting. Hose reel drum painted with red powder coating or chrome in stainless steel finish are available upon request.
Plastic nozzle supplied has jet/spray/shut-off operations. Chrome plated brass nozzle is available upon request. Hose has working pressure of 12 bar and bursting pressure of 50 bar and it is red in color, black color also available upon request. In automatic models, the valve opens automatically within three revolutions of the reel.
Fire hose reel is an efficient and reliable fire-fighting unit suitable for use in all types of buildings. Hose reel cabinet is available in different colors and mounting versions to suit various architectural requirements.
Hydrants, Wet and Dry Risers are also commonly used when designing a fire strategy for a property. All of these items are normally used by the fire brigade when in attendance at a fire. They are there to assist in providing the means of getting water to an area of the property that the brigade's hose are unlikely to reach.
Al Nawras guarantee utilizing the latest CAD technology and other software required for the hydraulic calculations. Al Nawras designers make sure that your fire protection system will work in practice as well as theory. Advice and inclusion of any of these products in a full turnkey solution are available from Al Nawras on all of these and other supplementary systems.